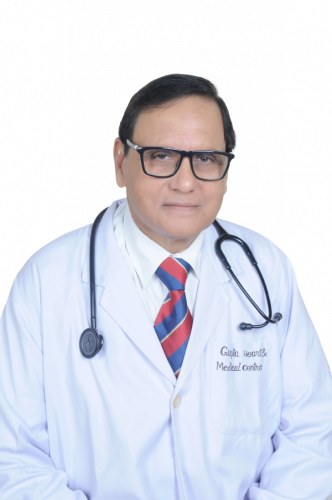 Dr. Munish Narain Gupta was born & brought up in Deoria. He completed his schooling there and then proceeded to do his B.Sc. from Deen Dayal Upadhyaya University, Gorakhpur. Thereafter, he did his M.B.B.S. followed by M.D. (Medicine) from Ganesh Shankar Vidyarthi Memorial Medical College, Kanpur.
He then went to U.K., where he received intensive training for 9 years in Medicine & allied specialties including Cardiology at various hospitals of international repute of England & Wales. He completed his Diploma in Tropical Medicine & Hygiene from the renowned Liverpool School of Tropical Medicine before finally coming back to Gorakhpur.
He is the pioneer in setting benchmarks in the management of cardiac ailments in Eastern Uttar Pradesh with a host of firsts in the private sector. He is credited with establishing the first privately owned dedicated Intensive Coronary Care Unit in 1988, followed by the first private Tread Mill Testing System in 1991, the first private Holter Monitoring & Analysis system in 1996 & the first dedicated 2D- Echocardiography & Colour Doppler system in 2001 in a private set up in entire Eastern Uttar Pradesh.
He has been recognized by various organizations for his outstanding achievements. The India International Friendship Society bestowed upon him the title of "Glory of India" in the year 2009 for his contribution to the development of Cardiology in Eastern Uttar Pradesh.
The year 2015 was when he was successively honored by various National Societies for his tireless efforts to provide affordable & round the year quality care of Cardiac patients.
He was awarded 3 fellowships within a short span of 3 weeks- Fellowship of Indian Society of Cardiology, Fellowship of Indian Academy of Echocardiography & Fellowship of Indian Association of Clinical Medicine.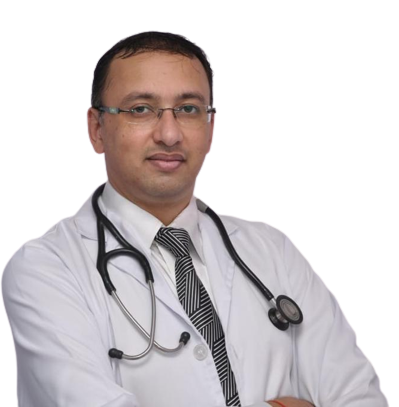 Dr. Gupta was born in England and did his initial schooling there. Thereafter, he moved to Cambrian Hall, Dehradun where he studied up to 12th standard.He did his M.B.B.S. from Kasturba Medical College, Mangalore (Manipal University) and his M.D. (General Medicine) from Pravara Institute of Medical Sciences, Ahmednagar.
He did his D.M. (Cardiology) from Narayana Medical College, Nellore (Dr. N.T.R. University, Vijayawada) following which he worked as a Consultant Interventional Cardiologist at Simhapuri Hospitals, Nellore.He has got vast experience in Interventional Cardiology including Angiography, Angioplasty, Permanent andTemporary Pacemaker implantation, Catheterization studies, Device
Closures and Balloon Valvotomies.
Dr. Munish Narain Gupta has been facilitated by many prestigious awards across the country.
To book an appointment with Dr. Gupta, kindly call us on the given number,